Starting a new business is difficult enough, but creating a beautiful website can be daunting. However, there are many resources available now a days for female entrepreneurs to help them get started on building the website of their dreams. In this post we will go over 5 businesses that build swoon-worthy website templates for the female entrepreneur.
**This post contains affiliate links.**
Starting a new website for your brand
Starting an online business is a great way for women to succeed and create their own income streams and a good website theme will make the process easier and faster.
With these Kadence and WordPress theme template recommendations that I'm going to share with you today, you can focus on what you do best – running your business!
The Best Female Entrepreneur Website Themes
Female entrepreneurs need to be able to create a website and feminine blog that will make them stand out from the crowd.
When you are looking for a WordPress website template, it is important to look for one that is responsive, easy to use, and customizable, yet visually appealing and cohesive with your brand.
Some of the best female entrepreneur website themes are created in WordPress using Elementor, Genesis and Kadence, and purchasing a website theme template will help you create a unique and professional site in no time!
What You Need to Know Before Creating Your Own Website For Your Business
If you're just starting out as a female blogger or your own digital business, you might be wondering how in the world you're going to create a website for your business.
But thankfully, the internet has changed in many ways, and now instead of having to know any code, you can just purchase a premium WordPress theme template, follow the setup directions, and then viola, you're beautiful and professional-looking website will be live!
Is a website theme the same as a blog theme?
A website theme is not exactly the same as a blog theme, however, the terms tend to be used interchangeably.
If you choose not to have a blog at all, that is to say, blog posts on your website, then you will want to stick with a website theme that is not focused on the blog layout design.
2 Things You Need To Do Before Creating Your Own Website
There are many different factors that go into creating an online presence for your company – from domain names to hosting services – which this article won't focus on much.
However, there are two things you'll need before you build your website or personal blog, and they are:
Domain Name- The first thing you need is a domain name. » You can get an affordable domain name here.This is the address of your site on the internet and will identify it from all other sites out there.
Website Hosting- You should also have a hosting service that will provide all of the necessary computer space for storing files and data for your site as well. » You can get the same secure website hosting service that I use HERE.
Now that we got the boring stuff out of the way, let's talk about what you're here for in the first place, and that's beautiful and feminine WordPress themes.
Best Feminine Website Theme Templates For Your Business
A feminine website template theme is designed to bring forth your brand's personality.
The design should make the viewer (aka, your potential customers/clients) feel connected when they visit your website.
Here are my top favorite businesses that sell feminine WordPress and Kadence themes.
1. Pix & Hue
Pix & Hue creates some of the chicest websites on the internet for the female entrepreneur. Her designs are so different and you won't find anything else like it.
Here's what the Pix & Hue website has to say about their website templates:
"With the chicest designs and oh so many features, get ready to easily DIY a feminine WordPress site that actually looks good and converts.— Pix & Hue"
Browse through Pix & Hue's collection of website templates HERE
2. Restored 316 Designs
What I love about Restored 316 website templates, is that they have such a nice, clean look to them. They are also very responsive and easy to set up.
Here's what the Restored 316 Designs website has to about their templates:
"Your business needs a website that stands out from the rest. Entrepreneurs often feel like they need to spend a fortune on a custom website to have a professional online presence. Not only do you not need to spend a fortune, but our website templates are so easy to use that you can have a beautiful website in minutes! With Restored 316, you can have the website of your dreams with a beautiful, conversion-focused online presence—without breaking the bank. Browse our selection of website templates today. — Restored 316 Designs"
You can check out the themes over on the Restored 316 website HERE.
3. 17th Avenue Designs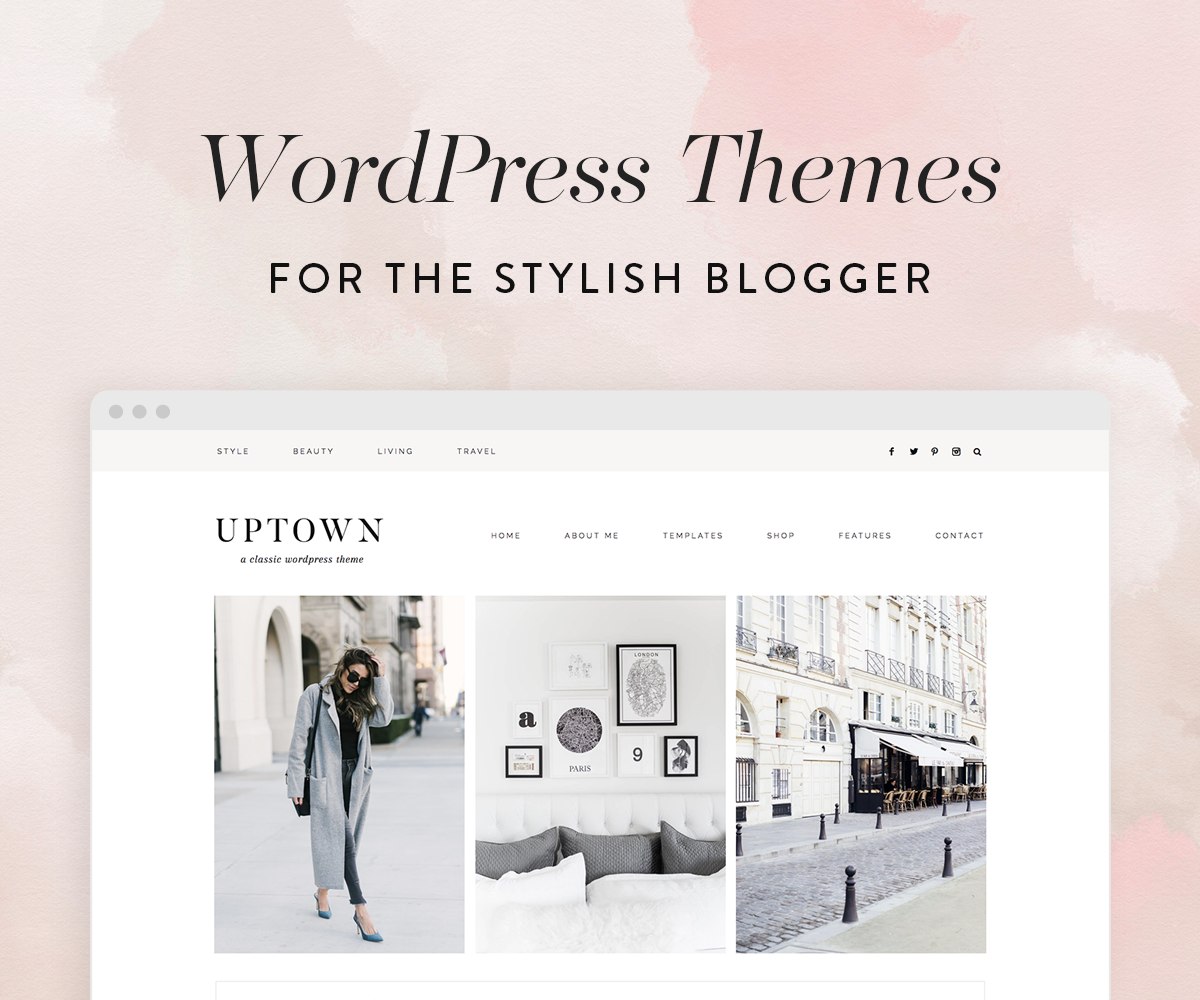 I love the gorgeous simplicity in the 17th Avenue Designs website themes. Their themes can fit for any niche and have a wonderful and responsive design.
Whether you're a lifestyle blogger, wedding planner, or online digital creator, if you love the chic and simple look, you'll love these feminine WordPress theme templates.
Here's what the 17th Avenue Designs website says about their themes:
"We want you to fall head-over-heels in love with your website.
With an emphasis on gorgeous typography, responsive design, functional features, and endless flexibility, our collection of handcrafted WordPress themes are designed to convert, sell, and positively swoon your audience. —17th Avenue Designs"
You can check out 17th Avenue Designs website templates HERE.
4. BluChic
Need to build a website that is custom, professional, and budget-friendly? Bluchic has you covered!
Each gorgeously designed WordPress template is built for women in business to shine and excel. No need to code or stress over graphic design, either.
These templates are shockingly easy to use, but they are sure to make an impression with your clients.
Here's what BluChic has to say about their website templates:
"Our WordPress themes elevate your business instantly, ensuring that your website looks and works the way you need it to, showcasing your skills, products and services in the best way. Because we believe every female entrepreneur deserves a beautiful & professional online presence – at every stage of business. —BluChic"
Check out the BluChic templates right HERE
5. Hello You Designs
If you're wanting a website that's creative and unique, then you'll love the templates that Hello You Designs has to offer!
The layouts and homepage designs are truly unique and will have your website or blog really make an impact on your visitors.
Here's what Hello You Designs has to say about their templates:
"Easy to use, fully customizable WordPress themes. Create your dream website without a bit of code. With our new collection of Kadence themes, changes are done in a live page editor. You have full control over all details on your site, including fonts. Each Theme is optimized for Core Web Vitals & fast loading times.— Hello You Designs"
Check out what Hello You Designs has to offer, right HERE.
Now, which website template theme will you choose?
Well, when considering a theme for your website, you want to make sure that the theme matches that of your brand and personality.
Although the colors and images can be customized, depending on your brand and style, you might need a more simple design or a more unique and creative design.
But, whatever website theme you choose in the end, just make sure that it is true to you and your brand.
Pin to Pinterest